FREE SHIPPING WITHIN THE US & CANADA
Creativity changed my life
and it can change yours too!
Five years ago I was at the end of my rope. Stuck in a job I hated, I was experiencing 15 to 16 migraines a month and battling chronic physical pain that barely let me sleep more than an hour a night. I was at the end of rope and I had no idea what to do about it. Then one day I just happened to walk down the aisle at Walmart that contains the art supplies. A sketchbook and some paints caught my eye; I brought them home with me.
Little did I know how that action would change my life!
What I quickly came to realize is that no matter how much pain I was in when I sat down to play with my art supplies I no longer felt that pain. It was like all my pain existed in the logical, left hemisphere of my brain and as I created I moved into the creative, non-linear right brain and I no longer felt the pain. I cannot begin to express what a gift this freedom from pain was, even if it was only for a brief time I had control again. There was a way for me to consciously escape my pain. This was one of the most empowering experiences I have ever had.
Creativity changes lives, of that I have no doubt.
Whether you are dealing with chronic pain issues, depression, lack of clarity or any one of the many challenges life throws at us, I can guarantee you adding a creative practice to your life can and will change it. I speak from experience on this!
You don't need talent
It isn't about talent, it isn't even about creating something that is visually appealing, it is simply about the act of creation. We are all creative beings and tapping into that creativity can be one of the best gifts you ever give yourself. The goal of A New Day Art Studio is to provide inspiration and encouragement so that you too can find your inner CREATOR!!!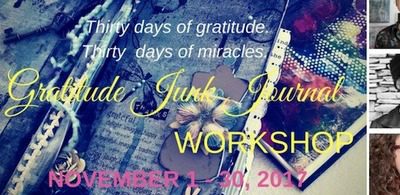 Hi!  Welcome to the Gratitude Junk Journal Workshop Social Media Hop! Join me on a quick, artsy journey towards gratitude and meeting the 10 AWESOME instructors of this workshop! And for a chance to WIN a free spot in the Gratitude Junk Journal Workshop, REGISTRATION...
read more